Posts for tag: partial denture
By Sathya Medanaga, D.D.S.
May 14, 2022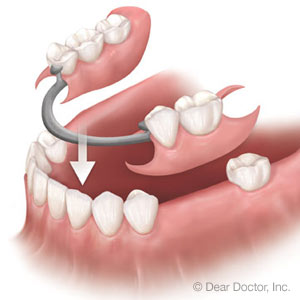 Dental implants are often the ideal choice to replace missing teeth. Unfortunately, "ideal" and "affordable" don't always align simultaneously for people. Even if implants are right for you, you may have to put them off to a more financially appropriate season.
In the meantime, though, you're still missing teeth—and perhaps some of them are right square in the middle of your smile. What can you do now, even if temporarily?
The solution might be a flexible removable partial denture (RPD). These newer types of RPD fit somewhere between the lightweight "flipper" and the more traditional rigid plastic appliances often made for permanent use. The flexible RPD is made of nylon plastic (technically known as a super-polyamide), which although lightweight, is highly durable.
Super-polyamides change their shape under high heat, a characteristic dental technicians take advantage of by injection molding heated material into flexible denture bases, to which they then attach the replacement teeth. Like other RPDs, a flexible RPD is custom-designed for the individual patient to match their jaw contours, as well as the types and locations of their missing teeth.
Flexible RPDs also differ from other RPD types in how they stay in place. While the more rigid RPD depends on metal clasps that grip to some of the remaining natural teeth, a flexible RPD uses finger-like extensions of the nylon material to fit around teeth near the gum line where they're difficult to see. As such, the flexible RPD is both comfortable and securely held in place.
A flexible RPD, like their counterparts, does require regular maintenance. Any RPD can accumulate dental plaque, a thin biofilm buildup on teeth that causes dental disease. For this reason, wearers should regularly remove their RPD and clean it thoroughly with an antibacterial soap (never toothpaste). All RPDs should also be removed at night to limit bacterial growth.
With a little care, a flexible RPD could last for several years. It could be just the solution to buy you time while you're waiting to obtain dental implants.
If you would like more information on restoration options for missing teeth, please contact us or schedule an appointment for a consultation. You can also learn more about this topic by reading the Dear Doctor magazine article "Flexible Partial Dentures."
By Sathya Medanaga, D.D.S.
February 28, 2021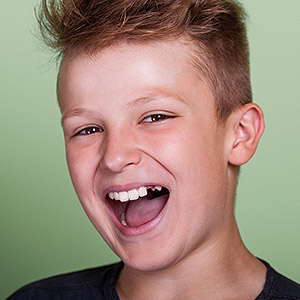 While anyone can lose a permanent tooth, the cause often varies by age group. Adults usually lose their teeth to disease, while those under twenty lose a tooth to accidents.
For adults, a dental implant is usually the best way to replace a missing tooth. Teenagers and younger, on the other hand, must wait to get implants until their jaws fully develop. An implant placed on an immature jaw will eventually look and feel out of place.
For most, their jaws won't reach full maturity until their early twenties. Even so, they still have a couple of good options for restoring their smiles in the meantime, albeit temporarily.
One is a removable partial denture or RPD, a device with the replacement prosthetic (false) tooth or teeth set in a gum-colored acrylic base. Of the various types of RPDs, most teenagers do well with a rigid but lightweight version called a "flipper," called so because it can be flipped in and out of place with the tongue.
These RPDs are affordable, their fit easily adjusted, and they make cleaning the rest of the teeth easier. But they can break while biting down hard and—because they're dentures—aren't always well accepted among teenagers.
The other option is a bonded bridge. Unlike a traditional bridge secured with crowns cemented to natural teeth, a bonded bridge uses a strip of dental material affixed to the back of the prosthetic tooth with the ends of the strip extending outward horizontally. With the prosthetic tooth inserted into the empty space, these extended ends are bonded to the backs of the natural teeth on either side.
Though not as secure as a traditional bridge, a bonded bridge is more aesthetic and comfortable than an RPG. On the other hand, patients who have a deep bite or a teeth-grinding habit, both of which can generate abnormally high biting forces, run a higher risk of damaging the bridge. A bridge can also make hygiene tasks difficult and time-consuming, requiring a high degree of self-discipline from the patient.
Whichever you choose, both options can effectively replace a teenager's missing tooth while waiting for dental implants. Although temporary, they can make the long wait time for a teenager more bearable.
If you would like more information on restorations for children and teens, please contact us or schedule an appointment for a consultation.
By Sathya Medanaga, D.D.S.
April 03, 2017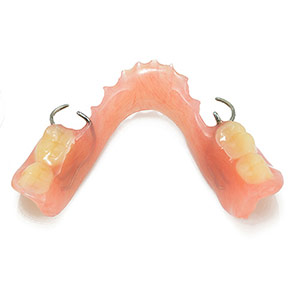 You would love to replace your missing teeth with dental implants. And for good reason — they're the best way to restore life-like, functional teeth. But there's one problem — implants and fixed bridgework (the next, best option) are financially out of your reach.
There's another viable option, though, that might fit your budget — removable partial dentures (RPDs). Similar to full dentures, RPDs replace only the missing teeth in a dental arch. And they're much less expensive than implants or bridgework.
RPDs are custom made to fit an individual patient and their particular missing teeth locations. Their frameworks are usually made of vitallium, a strong but lightweight metal alloy. With vitallium, the frame can be made thin enough not to be noticeable but still conduct sensation.
A pink resin or plastic that mimics gum tissue covers the frame, to which we attach prosthetic (false) teeth made of porcelain, glass-filled resin or plastic to precisely match the missing teeth locations. The RPD is held in place with small metal clasps that fit around remaining natural teeth.
RPDs are designed to minimize movement and avoid undue pressure on the gum ridges, which could accelerate underlying bone loss. In certain situations, though, the location of some missing teeth could complicate matters. If you're missing a tooth in the back where the appliance coverage ends, the RPD may not be as stable.
The solution, ironically, could be a dental implant placed strategically at the end of the RPD, where it connects securely with the appliance. You would only need one or two implants, which won't dramatically increase costs.
One thing to remember with an RPD: they tend to accumulate bacterial plaque, the trigger for both tooth decay and periodontal (gum) disease. That's why it's important to practice daily effective hygiene by cleaning the RPD and your remaining teeth and gums, as well as taking the RPD out at night.
A well-maintained RPD could last for many years. With this appliance you can still have functional teeth and a winning smile, even without implants.
If you would like more information on removable dentures, please contact us or schedule an appointment for a consultation. You can also learn more about this topic by reading the Dear Doctor magazine article "Removable Partial Dentures: Still a Viable Tooth-Replacement Alternative."