Posts for: February, 2017
By Sathya Medanaga, D.D.S.
February 24, 2017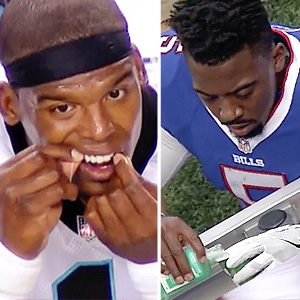 Everyone knows that in the game of football, quarterbacks are looked up to as team leaders. That's why we're so pleased to see some NFL QB's setting great examples of… wait for it… excellent oral hygiene.
First, at the 2016 season opener against the Broncos, Cam Newton of the Carolina Panthers was spotted on the bench; in his hands was a strand of dental floss. In between plays, the 2105 MVP was observed giving his hard-to-reach tooth surfaces a good cleaning with the floss.
Later, Buffalo Bills QB Tyrod Taylor was seen on the sideline of a game against the 49ers — with a bottle of mouthwash. Taylor took a swig, swished it around his mouth for a minute, and spit it out. Was he trying to make his breath fresher in the huddle when he called out plays?
Maybe… but in fact, a good mouthrinse can be much more than a short-lived breath freshener.
Cosmetic rinses can leave your breath with a minty taste or pleasant smell — but the sensation is only temporary. And while there's nothing wrong with having good-smelling breath, using a cosmetic mouthwash doesn't improve your oral hygiene — in fact, it can actually mask odors that may indicate a problem, such as tooth decay or gum disease.
Using a therapeutic mouthrinse, however, can actually enhance your oral health. Many commonly available therapeutic rinses contain anti-cariogenic (cavity-fighting) ingredients, such as fluoride; these can help prevent tooth decay and cavity formation by strengthening tooth enamel. Others contain antibacterial ingredients; these can help control the harmful oral bacteria found in plaque — the sticky film that can build up on your teeth in between cleanings. Some antibacterial mouthrinses are available over-the-counter, while others are prescription-only. When used along with brushing and flossing, they can reduce gum disease (gingivitis) and promote good oral health.
So why did Taylor rinse? His coach Rex Ryan later explained that he was cleaning out his mouth after a hard hit, which may have caused some bleeding. Ryan also noted, "He [Taylor] does have the best smelling breath in the league for any quarterback." The coach didn't explain how he knows that — but never mind. The takeaway is that a cosmetic rinse may be OK for a quick fix — but when it comes to good oral hygiene, using a therapeutic mouthrinse as a part of your daily routine (along with flossing and brushing) can really step up your game.
If you would like more information about mouthrinses and oral hygiene, contact us or schedule a consultation.
By Sathya Medanaga, D.D.S.
February 09, 2017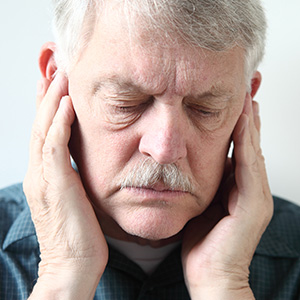 After ruling out other possibilities for your constant jaw joint pain, your doctor has diagnosed you with a temporomandibular disorder (TMD). Now that you know what you have, what can you do about it?
Unfortunately, it's not always an easy answer. Ideas about treatment are almost as numerous as theories on the causes of TMD. By and large, though, we can classify treatment into two broad categories: conservative and aggressive.
The conservative approach is the result of many years of experimentation and application; it's also much less invasive than aggressive treatments. For most patients, though, these treatments can offer significant relief from pain and dysfunction.
Conservative treatments are based primarily on the philosophy that the temporomandibular joint is like any other joint, and should be treated that way. Treatments include thermal therapies like ice or heat packs applied to the jaw, physical therapy (gentle stretching, jaw exercise, and massage) and pain and muscle relaxant medication. In cases where teeth grinding may be a contributing factor, we might recommend a bite guard worn in the mouth to reduce biting pressure.
On the other end of the spectrum are treatments like altering the bite or the position of the jaw. The purpose of bite alteration is to change the dynamic when the jaws are in contact during chewing or clenching, and reduce pressure on the joints. This is often done by reshaping the teeth's biting surfaces, moving the teeth with orthodontics or performing crown and bridgework. Another possibility, actually modifying the lower jaw location, requires surgery. All of these aggressive treatments are done in order of less to more invasiveness.
These more aggressive treatments, especially jaw surgery, are irreversible. Furthermore, studies on results have not been encouraging — there's no guarantee you'll receive relief from your symptoms. You should consider the aggressive approach only as a last resort, after you've tried more conservative measures. Even then, you should get a second opinion before undergoing more invasive procedures.
Hopefully, you'll see relief from therapies that have made a significant difference for most TMD sufferers. And that's our goal: to reduce your pain and dysfunction and help you regain your quality of life.
If you would like more information on TMD causes and treatments, please contact us or schedule an appointment for a consultation. You can also learn more about this topic by reading the Dear Doctor magazine article "Seeking Relief from TMD."